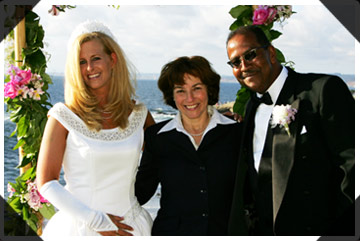 Testimonials

Dear Debby,

We wanted to give you this in person but it's hard when we're out in Florida! We wanted to thank you so very very much for presiding over our wedding. Being able to look up at you when I was shaking with fear calmed me and made everything seem just fine. Because of your words and the kind spirit that you have, the ceremony was more beautiful than I imagined it could be. You were such an important part of our day and thank you for the wonderful ceremony you put together for us as well as the remarkable musicians you recommended. (Please tell them how wonderful they were as we don't have their addresses.) It was so nice to have met you and we hope the New Year sees you well.

Thank you again and Best wishes.
Nicolle and Joe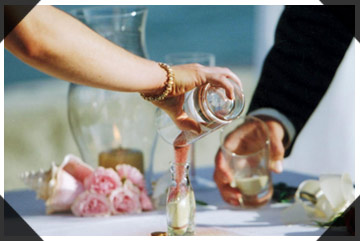 Deborah,
Thank you for offering to send us a copy of the ceremony. We both want to thank you for the fabulous job you and Rev. Farley did. We got sooooo many compliments on the ceremony. We loved it and it really brought both of our beliefs and backgrounds together. We know it's a great start to our lives together as an interfaith family.
Thanks again and take care.
Colleen
Dear Debby,
Thank you so much for everything. Our wedding ceremony was beautiful, perfect and uniquely us! We are so happy that you were a part of our day.
Lynn & Derek